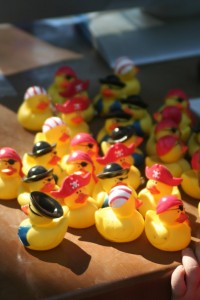 Ducks in every size, shape and color were on display today at the decoy show; we even spotted a few disguised as pirates! We were somehow lured by this innocent-looking flotilla into buying raffle tickets to benefit the Tuckerton Seaport Museum; with luck the duckie with our name inside will be first across the finish line tomorrow in the race at Tuckerton Creek.
We had a wonderful day and are tired in that good way that comes with exercise and plenty of fresh air. Our wallets were properly exercised as well (I'll have some treasures to share later) and Luka (unofficially voted as the cutest Lab pup at the show) met at least a hundred other dogs and was petted and fussed over by loads of people. Have I mentioned lately how much this dog loves meeting people and other dogs?
The show runs through tomorrow – I'm even thinking of going back for a few hours – I still have some money left!