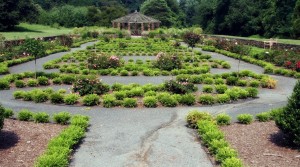 Click for a nicer view!
Are you wondering what a parterre is? Don't speak French?
😉
A parterre is a symmetrical garden, often with roses or perennials and boxwood hedges. They're meant to be viewed from above, to better appreciate the pattern of the design, but I preferred the ground-level view of this still young planting.
I've been watching this one take shape for a couple years now at the local horticultural park. It was nice the other day to find that the park system had reached the final stages of restoring this treasured part of the many display gardens at Deep Cut.
I think the view will be gorgeous in the wintertime from the top of the hillside by the rockery – the weeping hemlocks there laced with snow – and the curving lines of the boxwoods in the parterre outlined in white, too.
A pic of the parterre from two summers ago is here. I can't imagine how much nicer it'll be two years from now.