"One of the most delightful things about a garden is the anticipation it provides."–W.E. Johns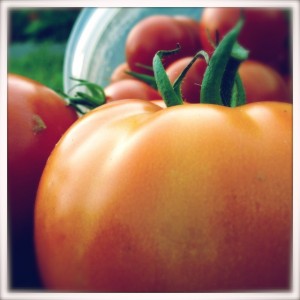 Finally (!) I'm starting to feel overrun with tomatoes. Luckily, it's the cherry tomatoes that are first to bear and those disappear easily enough. Better than half of what's ripe at each visit is devoured before I even leave the community garden with the day's harvest. I munch away while I water and while I weed. Makes all the sweat seem so much more worthwhile somehow.
: )
I planted a bunch of heirloom tomatoes… Rutgers was the first of the "big" tomatoes to ripen, but I haven't tasted one yet. Each one I've brought home has mysteriously disappeared before I got a bite! The first of the lovely pink Brandywines is almost ready… those are a favorite and will be hidden away in my purse, if necessary!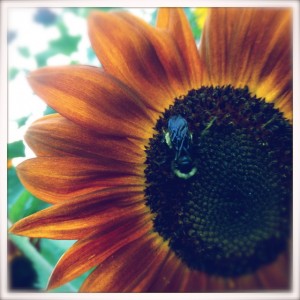 The heat of the sun here is something else… like gardening in a furnace! I'm surprised anything survives, really. I'm approaching this first summer as little more than an experiment to see what'll grow and how well. Cucumbers did well, but the vines have turned to dust in the last week. Just as well… I was getting a bit overwhelmed with them. The summer squash looked beautiful and I got half a dozen that I still need to cook, but the plants were overrun with bugs. I'm still waiting on the peppers. I also planted tomatillos for the first time… anyone know anything about them? Lots of flowers, but no fruit set. Curious.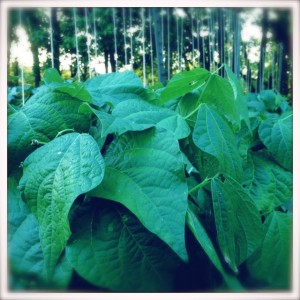 I spend some time at each visit just wandering around the garden, enjoying being around growing things. I think that's what I like most about being there. I love to see what other people are growing and how well their vegetables are doing. There's a couple of beehives maintained by students… those are fun to look in on. Plenty of bluebirds and towhees, too, keeping the bugs at bay.
It's supposed to be 106 this Saturday… you'll find me somewhere shady, for sure.