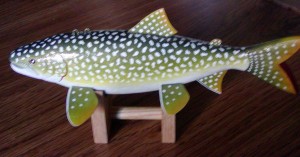 Have you ever heard of a fish decoy? I hadn't until I came across them at the show on Saturday. Sheepishly I asked the gentleman selling them if they were just decorative or if they actually had some use. He explained that yes, some people collect them, but in places where spear fishing is allowed these decoys are used to lure bigger fish to a hole made in the ice of a frozen lake. Lines are attached to the decoy, then to a stick or *jig* and the decoy is made to swim in a way so as to attract other fish that can be speared from above the ice. Like duck decoys, fish decoys are quite popular as folk art, in addition to their more practical use. Who'd have guessed it? Me, I just thought it was pretty. It's a Lake Trout, carved from white pine and only 8″ long with a beautiful curve to its body. It's surprisingly heavy for its size, due to the weights placed in its belly to make it *swim* properly. The carver suggested I try it out in the bathtub to see how it works.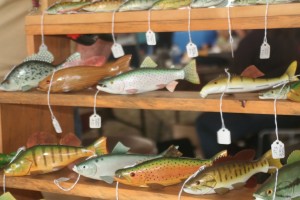 I had a hard time choosing which I liked best, but think I chose a good one. The artist, Rich Brooks, has won many awards for his decoys and lures and the one I chose was featured in a display this summer at the Tuckerton Seaport where he was the *artist in residence*. A nice pic of my decoy is available here and more info about fish decoys in general is available at this website.

What I love most about the decoy show is the chance to chat with the people who make such beautiful things. They all seem to love to talk and share their expertise. I'd imagine it's difficult on the ego to set up a booth filled with things you've worked hundreds of hours on and poured your soul into, only to see so many people pass by without much more than a glance. Those of us that do stop to ask questions (and to buy) are richly rewarded with a peek into the heart of an artist. Each decoy I own has been bought this way, after the telling of a story or a conversation about some aspect of their craft. That personal connection is what makes each decoy unique and special to me.