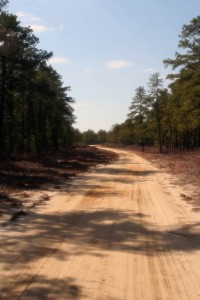 Thoreau believed that we all have our solitary places; places we go to in order to escape a world that closes in on us; a place neither physical nor geographical, but instead mental – a state of mind that exists within all of us and which offers the chance to think and to listen.
Thoreau called his place "Walden" and I'm wondering about what name I might give to my solitary place. Where is it that I take myself to be away from the here and now? Would it be a place like this sand trail through the Pine Barrens? Is that solitary place more about being very present in the moment and separate from memory and its weight? What view in my mind's eye quiets the thoughts and endless questions from an overactive mind?

There is a place that I feel peace and safety apart from the world, but I don't know that it's one that I can photograph. It's part blue sky and loneliness, the music of water and birdsong, the dazzle of sun and the whisper of wind, and the question of what lies ahead, just around the bend and out of view.