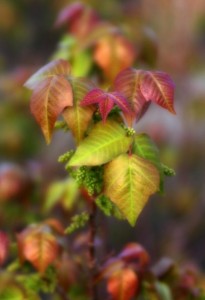 Is it possible to will away poison ivy, do you think? Ignore it away, maybe? I've been trying to not see the funny little blisters that are replacing the sunburn on my arms and shoulders from a morning at the beach last weekend. First I thought they were blisters from too much sun on my winter-white skin. Then they started to itch a bit and I decided them bug bites. But I know better, I think.
I forget that I can't be so cavalier in my approach to poison ivy anymore. Getting it once should have been a good lesson, but the sun and a warmish breeze off the bay at Sandy Hook conspired to make me absentminded. I was more concerned with scratching up my bare legs among the beach plums, apparently, than minding what the rest of me touched. Foolish with spring-fever, I'll pay the price by itching until Memorial Day.
I got poison ivy for the first time only about five years ago. It was the end of the school year and I was teaching high school at the time. My classroom that year was a *modular* one (makeshift would be a better word) – school construction had a number of classrooms relocated to the gym. There were walls to separate each classroom from the next, but no doors and no proper ceilings. You can imagine the fun a group of freshman boys might have with that set-up. I always knew if there was a substitute teacher in one of the adjoining classrooms because all manner of things would come flying over the walls, hitting my angelic students on the head while they toiled over their Spanish textbooks. Great fun. At any rate, there was no air conditioning in the gym, of course, and poor poison-ivy covered me couldn't hide my calamine-lotioned skin under long sleeves or pants for fear of fainting in the heat at the end of June. School ended and I went off to celebrate in the Adirondacks and was eaten alive by black flies on top of my poison ivy. Talk about misery!
Poison ivy is impossible to avoid at Sandy Hook – it grows in great impenetrable thickets – and this time of year it's not looking nearly so pretty or obvious as in this pic from May of last year. There was nothing but branches with just a hint of leaves… how dangerous is that?
😉
Don't tell me. I'm pretending not to notice, remember?