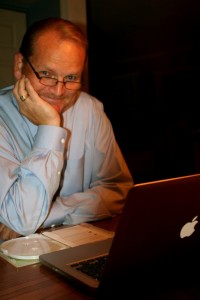 When he's not tending to his chickens or garden, or ranting about something or other, my brother Kevin moonlights as a computer geek.
Isn't he cute?
We got together tonight so he could load PhotoShop onto my shiny new Mac, but there was a technical snafu, so that didn't happen.
My computer geek brother brought home the Windows version of PS rather than the Mac version.
(rolling my eyes)
I took the opportunity to harass him some about not updating his blog in weeks. I helped my niece with her math homework. I got a tour of his new barn, but the chickens were already asleep.
Early-risers apparently.
Do you have a sibling with a skill that makes them your *go-to person* for something? What is it? Do they usually come through for you?
😉
In addition to his computer skills, I can always count on Kev to keep me laughing.