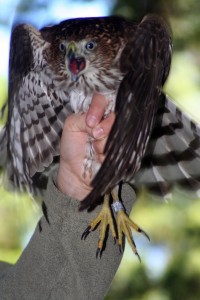 Susan pretty much stole my thunder, but I'll go ahead anyway and torture you with more about the Cape May Banding Project. Part of the fun in watching hawks is learning to identify them in the field. Most often we get only a fleeting glance that offers little more than a general impression of the bird's size and shape, with little or no detail visible as it disappears into the distance.
The banding demonstrations at Cape May Point State Park offer those of us who are drawn to birds of prey the chance to see some of those details up close. Birds of prey have become a popular study among birders and there are plenty of books to help with identifying them, but can't compare to the thrill of seeing one up close. The point of the banding demonstrations is to engage the public and generate support for the project; the purpose of the banding itself is a bit more far-reaching and long-term.
Last fall when I wrote a bit about the monarch tagging project, a commenter here questioned the ethics of tagging butterflies. I think the same criticism might be made for banding hawks if we fail to consider the importance of the science behind it. The capture of migrant hawks is routine at many hotspots throughout the world; Cape May isn't unique in that respect, and the numbers banded through the years are quite large. The data gained can help to answer important questions about population dynamics and provide insight to understand why some species are in decline.
The name Blue Darter is an old nickname for the Cooper's Hawk and refers to the bluish-gray on an adult hawk's back. This cranky one is a juvenille showing the typical brownish-streaked breast and belly.
I felt about how this bird looks going back to work today until I found out that I had won $50 in the baseball pool for the World Series!