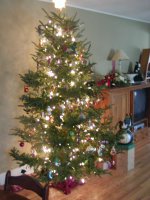 Another holiday season is coming to an end. We had my DH's family for Christmas Eve and for dinner on Chrsitmas Day. That we were able to seat 15 in my tiny house is pretty amazing! The food and company were good and there were no fistfights – what more could you ask for?

Tomorrow we're having my family for snacks and dessert in the late afternoon. We'll also finally get around to exchanging gifts. Then we can put away all the Xmas clutter and get back to our routines.

Each year at Christmas and Easter I exchange greeting cards with other members of the Petbunny List. Most all of the cards have a bunny on them and some people even make their own cards and include photos. This year, because I never got around to making cards, I bought them from A Rabbitt in Paradise. Lots of great bunny-themed items at that site and beautiful artwork on the cards!
We usually receive about 35 cards from the PB Swap and I use them to decorate on the porch where the bunnies live. The bunnies receive more cards than my DH and I do! I wonder what the mailman thinks of all the cards addressed to Miss Buns, Freckles, Boomer and Cricket, and Dora the Explorer!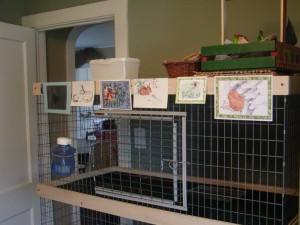 This is a photo of some of the cards displayed on Dora's cage. Because they're hung on the very top outside of her cage, she can't nibble on them the way the other bunnies do. My favorite of the ones you can see here is the second from the left sent by Mary, G.T., Herman and Freckles. It was made by the Minnesota Companion Rabbit Society and shows a bunny meeting its reflection in a Xmas ball. Very cute! Kathy B. made a beautiful handmade card that you can't see because it's hanging on the other side of the cage – I can only imagine the time she spends making these. Just gorgeous!

This next photo is of the cards in Boomer and Cricket's pen. Please ignore the bunnies gorging themselves at the bottom of the pic – I had just giving them their pellets before I took the photo.
Many beautiful cards there! I try to give everybunny an equal number of cards to display (so nobunny gets jealous!) but Boomer and Cricket have the most, just because they are such big bunnies and their pen is the largest and has the most display space.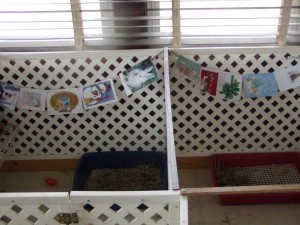 Lastly is a pic of Miss Buns and Freckles' cards. These two love to nibble their cards and toss them around the pen so I have to be careful of the material the cards are made of – no photo cards or anything with glitter, etc. Missy loves to sit in her pooty box and chomp on her cards rather than the hay she should be nibbling on. She is such a little devil! Not sure that it is visible in these tiny pics, but a few cards on the right have been *decorated* by Miss Buns already.