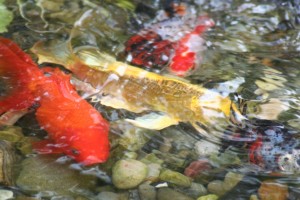 Fishies playing around in the shallow end of the pond.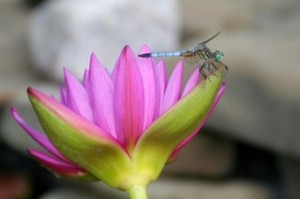 Dragonfly whose name I can't come up with. Maybe a blue dasher?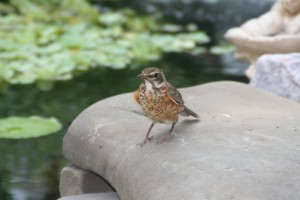 Sweet baby robin, looking for a place to put in for a bath.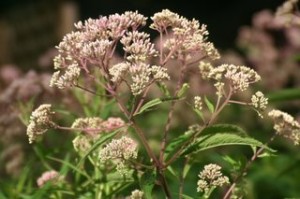 Joe Pye Weed blooming in the bog.

I spent the afternoon doing some work around the pond. The heat is causing the usual algae problems in the shallow end of the pond. The water is crystal clear (thanks to the UV light), but the little pebbles that line the beach are covered with slimy algae. I have this contraption called a *Muck Vac* which I use to suck up some of the junk that accumulates in the pebbles, but using it is a nightmare! Whoever thought to combine a vacuum with a garden hose must have been delirious. I spend most of the time fighting with the various hoses and trying to keep some sort of suction going. What isn't sucked out I blast away with the hose. Labor-intensive, but it works and now the rocks are clean and it doesn't look like a swamp out there. For a few days anyway. I trimmed the yellow and brown leaves off of the water-lilies and hacked away at the mint that is taking over the edge. The parrot's feather and water lettuce were reduced by half, but I still have too much of both. They provide a lot of shade for the fish, but do get carried away with themselves!