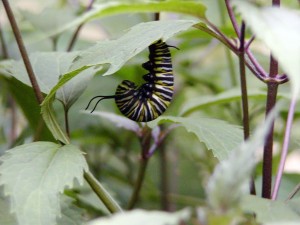 This monarch caterpillar had been struck with an idea; uncomfortable in its own skin, it turned itself and its life upside down and waited for the inevitable.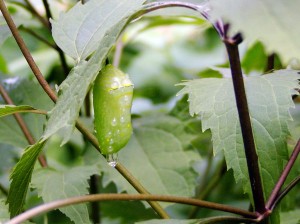 By the next morning, the transformation inherent in that idea had begun; in order to gain the wings, the caterpillar had to lose the teeth and the fuzz and let go, trusting the process.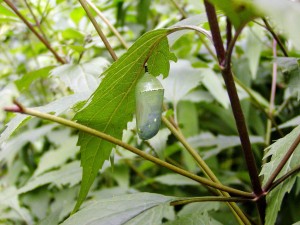 Ten days later found it still waiting, but showing outward signs of the body doing just what it should, unaware perhaps, of any memory of that earlier idea and the life it had shed.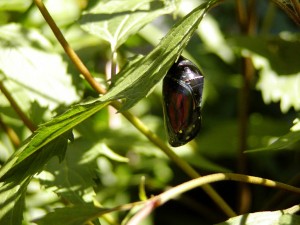 I'd like to think that same intelligence, whatever it is that makes the monarch grow and change and fly, is at work in all of us.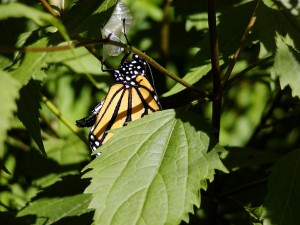 From handsome caterpillar… to jade earring dotted with gold… to the most beautiful mosaic of colors enclosed in the thinnest of skins… to shutter-like wings flaked with fire, waiting on the warmth of the sun. The change complete… beauty to beauty.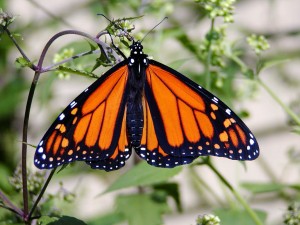 A butterfly idea… what could be smaller or more frantic? Or more improbable in the mind of a caterpillar?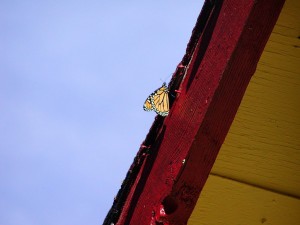 Does the butterfly wonder how or why or should I as it readies itself to fly away helter-skelter on new wings?

These pics are from a couple summers ago; I'm just as amazed with the process now as I was then, watching it day to day. Miracles like this play themsleves out everyday all around us. Sometimes we're lucky enough to have a ringside seat. I've not found any monarch cats in the garden since that summer, but this one continues to inspire my dreams for daring in the face of certain change.