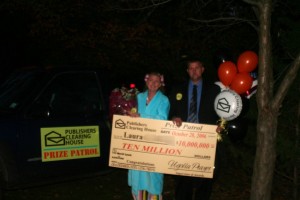 No, not really. But I thought the DH and I pulled off our Halloween Costume Party ruse pretty well. People who didn't see us arrive in the Prize Patrol truck or me carrying around the humungous $10 million check and bouquet of roses wondered what I was supposed to be with my bathrobe and hair in curlers.
My husband was perfectly happy to not have to *dress up* – wearing a suit is dressing up enough for him. A friend of ours who owns a sign shop made our props – the check, the balloons, the Prize Patrol signs for my DH's truck. We even won a contest for the *most unique* costume – not bad considering I had no ideas until a day or two before the party!
Wish I could take credit for the idea, but I found it (and lots of other great ideas) on a site I linked to in the comments on my previous post about the costume party. If anyone is looking for last-minute ideas, that site is worth a look!
I have some more pics to share of the other partygoers, but Blogger is as cranky as ever about loading them. Maybe tomorrow!