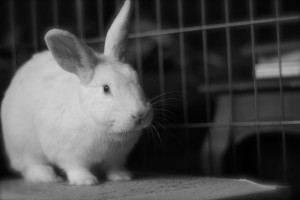 Maybe some of you that are bunny people heard this story about a nearby bunny hoarder. It ended up that many of the rabbits "rescued" from the hoarder were turned loose in an RV park so campers could "feed and enjoy them" as the above article says.
The local chapter of the House Rabbit Society, thankfully, stepped in to re-rescue as many of the bunnies as possible from the terrible fate that awaited them in the "wild" of the RV park.
The GA House Rabbit Society has put out a desperate call for help with the surviving bunnies… they need donations for the care of the sick and malnourished bunnies they rescued and they're looking for foster homes.
This is where Lucas (pictured) and I enter the story. I decided to foster him for a while to make space at the shelter for these recently rescued bunnies. He's a cutie-pie. I can't let him stay very long or I'll fall in love.
: )