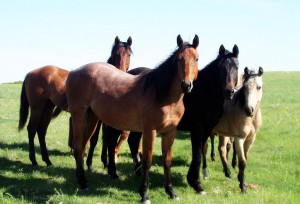 "Gipsy gold does not chink and glitter. It gleams in the sun and neighs in the dark." ~attributed to the Claddaugh Gypsies of Galway
I'll leave you for a few days with an image from North Dakota that's captured my memory and a small part of my imagination.
Pasture horses. Not the usual pampered racing thoroughbreds I see everyday here in NJ. These were full of curiosity… alarming, almost, in the way they surrounded us when we came upon them. There's a story to tell, but I haven't exactly found the way, yet.
I love horses; it's irrational of me… I'm not some country girl, after all. I don't want a horse; I just want to be able to look at them. Seeing them makes me wish I knew how to work clay in my hands.
That first morning in North Dakota, I was awake before the sun came up. It was my birthday. I was outside in the near dark, barefoot in the wet grass, wondering at my good luck. The sky was so filled with stars… I could see the Milky Way and birds were waking up around me… strange sounds, but ones that would soon become familiar there… Clay-Colored Sparrow and Western Meadowlark and Common Snipe.
There were unseen horses closeby; I could hear their snorting and soft nickering in the dark.
Magic.
😉