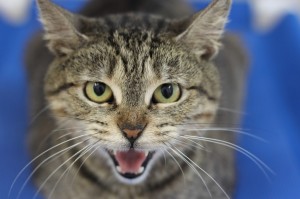 So I've been taking photos of some of the adoptable dogs and cats for the PAWS Atlanta website for a couple of months now. I started volunteering there shortly after we adopted Sadie. At first, I assisted their photographer by helping with equipment set-up and herding the animals during their photo shoot, but after a while the regular photographer moved away and I was promoted to full-fledged official volunteer pet photographer.
; )
As volunteer gigs go, it's pretty sweet! I don't have the fancy studio set-up that the other guy did and I don't usually have an assistant and I mostly don't know what the heck I'm doing, but it's so much fun! And oftentimes there are puppies and kittens to be photographed and loved on and snuggled some, too!
The cats are often a challenge, though. Or they're a different sort of challenge than the dogs. The last couple visits I've been met with running, hiding, hissing and spitty kitties. I try to reason with them, but not being a cat person, I can't seem to get them to understand that they're not doing themselves any favors by looking so… so… dangerous!
; )
I would encourage anyone with photography skills and a love for animals to consider offering your talents to a local shelter. The time spent befriending the animals (even the meanest of scaredy-cats) is therapeutic to us both, I think, on a personal level as well as in the quality of the photos. A happy, comfortable animal makes for a more beautiful photo; both of which make their adoption more likely!
You can see the pets currently available for adoption at PAWS (as well as some of my photos of them) by clicking here.