It's a poor sort of memory that only works backwards.
~Lewis Carroll, Alice in Wonderland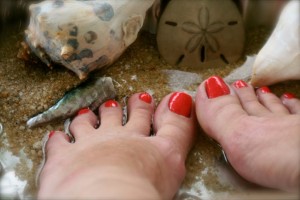 So earlier this evening I sat on my little patio wiggling my freshly-painted toes in a roasting pan filled with sand and seashells and water from the Pacific Ocean.
I smiled and giggled and hoped my neighbors couldn't see what I was doing.
The sand and seawater and roasting pan were presented to me a while back in a cardboard box with instructions on how to affect the above photo.
The seashells were mine, collected on a trip last year along my familiar eastern coast, but added for the sake of realism.
😉
Can anyone, by the way, explain to me why NJ beaches are devoid of proper seashells?
Anyway so… it's not exactly what I had in mind for #4, but it'll do for now and I learned a couple things:
sand from that other coast is very pebbly and must feel nice underfoot
the sea is just as salty-tasting on the other side of the country
of course I tasted it!
(that wasn't in the instructions, tho)
it's good to have friends who travel to far-flung places and are as nutty as you
(or maybe more so)
if you're going to do anything as silly as this, it's best to save it for that moment when the mood strikes you at the end of a very long Terrible Tuesday when you're sick of being the mean-social-worker-lady.
(silliness is an excellent challenge to meanness)
– – – – – – – – – – – – – – – – – – – – – – –
Another attempt at 4 in last year's 39 by 40. I haven't quite perfected the new list just yet.