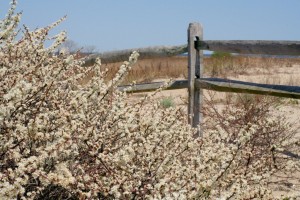 Beach Plum (Prunus maritima) at North Pond, Sandy Hook

"By the end of April the commitment is complete. Late Spring or early, we are on our way into the fullness of mid-May, and June will come billowing across the meadows before we know it. Meanwhile there are a lot of things to be done. All the buds have to open, all the acres of chlorophyll have to be spread in the sunlight, all the early blossoms have to unfurl. The earth has to get on with its vernal business.

It is perhaps significant that April, back at the root of the word, meant "the open air," the air out-of-doors. So it is only reasonable that we should expect much of April after Winter and March, when the open air was somewhat less than hospitable. April is an opening up, not only of the bud but of the heart, for of all the seasons this is the one in which we have the most urgent need to participate. We must have a part in the new awareness, the partnership with time and sunshine. Man is more than a shrub or a vegetabe, but he, too, needs Spring.

So, we come to the end of April, even a chilly April, with birdsong around us and some of Spring's color; and we feel the strengthening sun, we sense the opening buds, we know again that no Winter lasts forever, no Spring skips its turn. April is a promise that May is bound to keep, and we know it." – Hal Borland, Sundial of the Seasons, 1964.