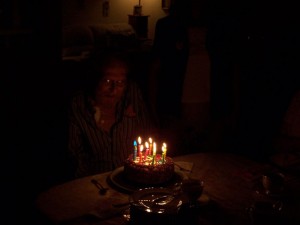 Today would have been my dad's 75th birthday – here he is on his 73rd. He fully planned to live to be at least 100 and told us so all the time. There were a lot of things, I guess, that he still wanted to do.
This is probably the only pic I have of my dad sitting in front of a birthday cake, and it's a sad one for me to look at. He looks so frail and sick; I wish I couldn't see his catheter for dialysis poking out of the collar of his shirt. We're standing around him there in the darkness, watching him make his wish before blowing out the candles. I wonder what he wished for on his last birthday.
I'm still at the point where I can't think of my dad without thinking of the burdens of sickness he faced during the last months of his life. I want to be done with this part of remembering. His life was not about being sick and dying – I want to be able to think of all the rest.
I hardly remember my dad ever being sick; until the hospital got a hold of him. We brought him in because his feet and lower legs were swollen and full of sores. The doctors kept talking about cancer and kidney failure and heart problems. All my dad wanted was for the doctors to fix his feet! He told them so and refused most of the tests they wanted.
He was doing pretty well when I first brought him home with me, even though the swelling in his feet and legs never much improved. Within a month he was sick and back in the hospital and on dialysis. Dialysis, at least, took away the swelling, but made him so weak. He refused any treatment for the cancer; always said he wanted to wait until he was stronger. Only, he never got stronger, just weaker and more frail. Then he got shingles, lost his appetite, stopped being himself.
My friend Debbie lost her father early this year. She used to see my dad on his dialysis days when she was at the hospital visiting her own dad. She often told me how good he looked and that she always saw him smiling and concerned with others. That was his way.
There are some happy memories from that time: the way my dog Buddy would greet my dad each morning, tail wagging, when I went in to wake him and my dad's greeting to us, "There's the sunshine"; driving from my brother's to my house with my dad on Thursday nights and passing the horse farms and the one field planted with giant sunflowers; my dad calling the bus that brought him to dialysis the "scat-wagon" (SCAT stands for senior citizen activity transportation); the pretty flowered finger bowl my dad insisted on having his meds served in, otherwise he might not take them; packing a lunch bag on dialysis days with anything my dad might eat, even if it was on the *prohibited* list – sometimes I would add a little love note or a chocolate for him to find.
This is the type of remembering I ought to be doing – it makes me smile to think of these things. My friend Debbie, with the loss of her dad, is a few steps behind me. She is marking the milestones of the first year without her dad. It's so very hard for her, I know. I am anxious to see her get to where she can remember her dad with a smile, rather than tears; but I am hardly there myself.