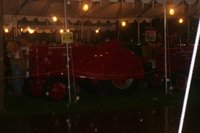 So. Our county fair is this week. I LOVE the fair and look forward to it all year long. We decided to go tonight because the weather forecast for the remainder of the week looks awfully hot. Plus, some friends from work were going and my co-worker's daughter was singing in the *talent showcase*. We got there late and I missed my friend's daughter and then this terribly rude woman behind us actually put her hands on me and pulled me down into my seat because I was blocking her view of the stage as I said hello to my friend. I was so angry I nearly spit. At her. Rudeness abounds in NJ whenever you get a bunch of us together in 90 degree heat. Add women who have been paying through the nose for singing lessons for their precious one-of-a-kind daughters and a video camera and you're just asking for a catfight.
Glutton for punishment that I am, I always visit the 4-H bunny tent. I walk around feeling bad for all the overweight bunnies panting in the heat on wire-floored cages without a scrap of hay in front of them. Today at least some had frozen water bottles to keep cool with. I really don't understand the point of the wh
ole thing – the 4-H people won't talk to any of the people streaming by, there is no educational information made available for those who are interested in learning something about rabbits. Nothing but these bunnies laying there like rag dolls. Oh and plenty of signs for bunnies for sale (when the 4-H project is over, of course). Every year I fantasize about setting up an alternative bunny display, with my bunnies in an x-pen with toys and litterboxes, so that people can get to see something other than a bunny in a cage being boring. Can anyone explain the whole 4-H philosophy to me in a way that makes sense? What exactly are they teaching kids in the small animal programs that is socially responsible? I took this pic of a French Lop for Michelle – this big boy was the only one who looked comfortable – notice the *happy feet*.

I have some more pics and ranting to do, but wonder of wonders! Blogger won't let me load anymore pics! Why am I not surprised? Maybe Blogger's trying to tell me that I'm too cranky tonight and should just go to bed.

The fair got rained out tonight – my husband and I stood around in the tractor tent for about an hour waiting for the rain to let up. Hopefully I can get back before the fair ends. I didn't even get to see the pig races or the lumberjack show!