We stayed in a really cool place for the couple days we spent in Tucson; we found it on Airbnb and it was even pretty reasonably priced! I hate staying in run-of-the-mill places when visiting a new area; it's so much more fun to stay in something more "typical" of a place. True, you don't really know what you're going to get, but oftentimes what you get is way more interesting! We've never ended up in someplace truly awful, but there have been a few places that were more "interesting" than expected.
😉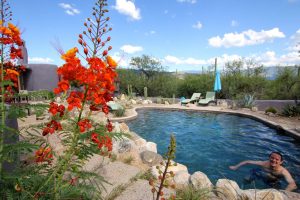 We stayed in the guesthouse which, together with the main house, was centered in a sort of circular design around this gorgeous pool. I'm generally not much of a pool person, but this was a welcome respite from the Tucson heat. We made good use of it – mostly in the late afternoons, but Jay also had a few early morning dips.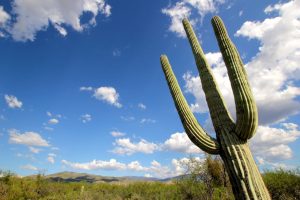 The landscaping on the property was super pretty; I took approximately three million photos of this particular saguaro cactus in order to capture it from every possible angle and in its best light. I don't imagine ever getting tired of looking at saguaros.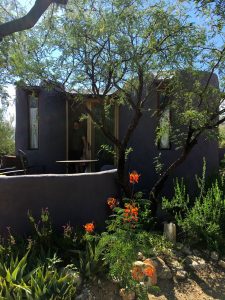 This is the adobe guesthouse or "casita" where we stayed – it was SO small inside, but the architecture made up for it, somehow. I don't think there was a straight line in the whole place – everything was curved! It was comfortable enough, but quirky – the bed was in the kitchen! The outdoor space made up for a lot, I guess.
😉
The walled-in area in the midground above surrounded a small table and patio where we spent time looking at the stars and where I sat up a couple nights by myself waiting for wildlife to show up. One night a coati climbed up in the tree next to the patio to have a look at me (!) and one night I heard and smelled (but never saw) what must have been a javelina! Lots of frogs and/or toads were attracted to the little waterfall that's part of the pool; I never really got a look at them, but they made a racket every night.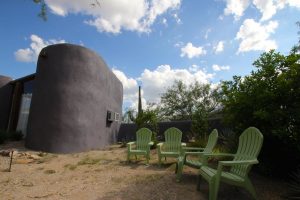 This is the little seating area that we walked through to our front door from the parking area. We never sat out there as it wasn't ever shady, but it was a good place to look for lizards! We had nice birds on the property, too!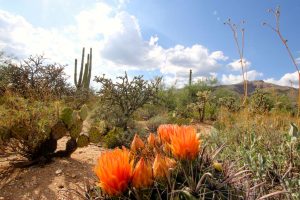 This was another favorite view, another favorite cactus in the parking area. I guess it's some sort of a barrel cactus that I was so tickled to see blooming. Pretty, right?
We chose this Airbnb property because it seemed to offer a central location and was close to Mt. Lemmon which we had planned to visit. It was a total win in my book: pretty, well-priced, mostly centrally located, and interesting. Have you used Airbnb? Any experiences to share or are you a "safe" traveler, preferring to stay in the tried-and-true?