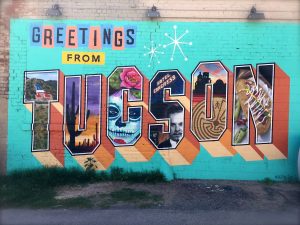 Tucson is a desert wrapped in mountain panoramas and approaching from the air gives no real hint of what a magical space it is. The Sonoran Desert that surrounds Tucson is the lushest desert in the southwest. It is also the hottest. We visited during the "rainy" monsoon season because it's great for migrant hummingbirds and also plays host to many breeding birds during the "second spring" in the desert. We'd hoped to stargaze under its clear dark skies. We wanted to eat authentic Mexican food. We wanted to get up close and personal with the desert – and all its varied inhabitants – without getting hurt (i.e. rattlesnakes, scorpions, cacti, etc.)
😉
Our first stop was lunch at a local place in downtown Tucson where I had a life-changing plate of huevos rancheros. I think Jay ate enchiladas every single day thereafter, proclaiming each, "the best I've ever had!" The rest of that first afternoon was spent on a walking tour of the historic "barrio viejo" neighborhood photographing the colorful adobe homes. It was poor planning on my part to do that during the hottest part of the day, but a good lesson about the Tucson heat. 106 degrees in the shade has to be experienced, I guess, before it can be understood. We had the good fortune to be able to meet up for dinner with some NJ birding friends on the last night of their tour and enjoyed some mariachi music and more enchiladas! The birding world is small and sweet and filled with good friends, even in faraway places.
We spent four days around Tucson – did a couple field trips as part of the Southeast Arizona Birding Festival, visited the Arizona-Sonora Desert Museum and wandered around on our own some before heading south for a couple days to a little town in the high desert close to the Mexican border. We spent a day exploring Bisbee and a day hunting for birds in the canyons of the Huachuca Mountains. Before we knew it, it was time to come home. 🙁
It was a great vacation and I look forward to sharing some pictures and stories here.
"Greetings from Tucson" mural by Victor Ving and friends at Miller's Surplus (N Arizona Ave & E 7th St) – this mural was high on my list of Tucson street art and I had to go back a couple times to see and photograph it because there was always a van or bus parked in front of it.