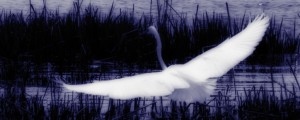 Summer has its windows open: listen to the crickets and smell the thick breath of the sea. There's not a cloud in the sky and miles of warm sun-scented beach ahead. We could walk for hours… leave our shoes on the boardwalk, skip stones by the jetty, trace our dreams in the sand.
That magic place where the sea meets the sky… I want to look at it forever, watch the slow progression of waves and listen to the dune grasses strum, laughter carried across beach blankets, the laughter of gulls rivaling ours, that old longing in me now so familiar as the waves roll in.
My sense of time and distance is lost to the lullaby of the surf, to an egret stalking the salt marsh on angel's wings, the beckoning breeze and its thoughts of you.
Take my hand, stay for a moment, taste the sea's kiss on my lips.

A postcard scene… wish you were here.
It rained today, all day.
I daydreamed.