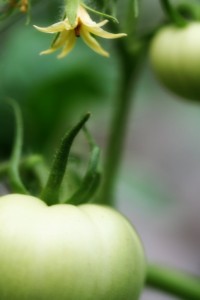 The garden is planted with the best of intentions each year; seedlings artfully arranged by height and shade tolerance, careful rows of tomatoes, lettuce, cabbage, peppers, a small colony of sweet basil, off to the side a rambling mass of cucumbers and squash.
This abundance is always reduced in the same manner. Lettuce and cabbage are the first to go (rabbits) followed by broccoli and kale if we braved them. The cucumbers and tomatoes are pruned early by something too young to know better (groundhogs) but grow vigorously to fruit until they ripen and are sampled yet again (squirrels). The peppers and basil are ignored (thank heavens for that), but the squash is ravaged (mystery bugs) and the foliage repeatedly eaten down so that there's nothing to shade what's growing below and the squash ends up sunpocked and dirt encrusted.
Every year we try again, build the fence a little higher and hope the critters might go for a neighbor's garden instead.
The tomatoes, if I get to them before the squirrels, are sublime. Just this week I did a little quality control work with the first couple ripe grape tomatoes. I love them and could make a meal of it, no washing or cooking required. We plant so many that it gets to be hard to keep up with what ripens each day. Always a nice thing to have too many sun-warmed tomatoes; nicer still is the watching and waiting for them to be red and ready for picking.
How's your garden growing? Who's eating what?