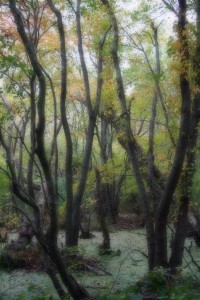 I was feeling a little under the weather today (actually I played hookey, but shhhh, my boss sometimes reads this) so I headed to Cape May thinking the salt air might help me feel better. This weekend is NJ Audubon's Fall Weekend and Bird Show, so there were lots of birders around and lots of birds. I was practically tripping over yellow-rumps and kinglets all afternoon. More than once while walking through the dunes I had to duck from the path of an oncoming sharpie in pursuit of a meal.

I avoided the hoards of birders as I'm prone to do and instead wandered some of my favorite spots alone, but did stop by the convention center to say hi to Amy from Wildbird on the Fly and Sharon the Birdchick. I missed running into Patrick from The Hawk Owl's Nest. I'm tired now from so much driving, most of it in the rain, but wanted to share just one favorite pic from today.

This was taken at a place birders call "the beanery" – the property is mostly farmland (lima beans, specifically) and woods. Wet woods, as you see here, where prothonotary warblers can be found in the springtime. NJ Audubon has some sort of agreement with the property owners, under which they *lease* birding rights on the property for their membership. Neat idea, I think. It was quiet today, but for the previously mentioned yellow-rumps and kinglets (golden-crowns, specifically). Lovely until it started to rain and I was startled once too often with shotgun fire that sounded too close for comfort. More pics some other day. 'Night.