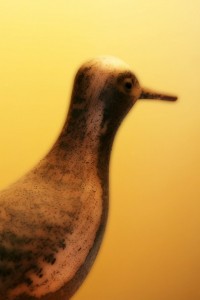 Have I mentioned lately how much I love shorebird decoys?
😉
I've more or less run out of room for any more of them, which is probably a good thing! There's avocets running across the tops of bookshelves, peeps peering around the corner of the tv stand, even a great egret skulking in the living room… never mind the various duck decoys that have found a place here.
This newish one is a favorite, though. Can you recognize it?
I only wish I could convince the relatives to shop for me at decoy shows rather than wherever it is they find all that kitschy bird stuff. Anybody feel like sharing pics of bad bird stuff they been gifted? I'd bet most of us have lots of things buried and hidden in closets! Maybe we could arrange a bad-bird-kitsch swap!
😉