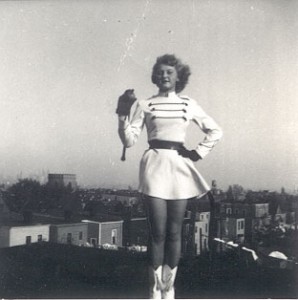 Blame it on Mary, but I'm here with no clue what to write tonight and she wondered if we knew any majorettes and, well… I thought of this pic from a million years ago of my mom on a rooftop in Jersey City. She's holding a baton, but in the funny way that my mind and eyes play tricks on me, I see a little falcon on her fist if I look too quickly. Do you see that?
😉
Anyway… my mom was a twirler and my dad played the trumpet. Both of my brothers tried to play the trumpet growing up. Brian was pretty good, I think, but then I remember a story about Kevin smashing his trumpet on the dresser at some point in frustration at the klunkers. German temper, you know.
Me, being the only girl and having the responsibility to take after my mom… I tried to be a twirler. I was little and uncoordinated. The farthest that went was the Halloween costume my mom sewed for me one year – rust colored velvety stuff with the golden braids across the chest and the little skirt – just like in this pic – only my legs weren't nearly as nice then. And there was no hat or cool boots. I remember practices in the school gym – trying to twirl, dropping the darn thing over and over, banging myself in the head with it – you get the idea. Not good! There was also a stint in marching band in high school that found me as uncoordinated with a clarinet as I was with a baton.
Clearly, I missed out on the coordinated and musical genes.
😉