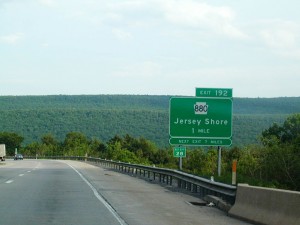 Spotted along the drive on the interstate in Pa. to visit Delia a couple months ago…
The shore traffic has started already; yesterday I got caught in a traffic jam on the Parkway out to visit clients… time to revisit the backroads to the beach and avoid the carloads of city people that take over here come Memorial Day. The boardwalk shops are open, boats have been unwrapped from their plastic winter protection, storm shutters are up and awnings come down… the summer solstice isn't until the 20th of June, but this weekend is the real start of summer at the Jersey Shore.
I'll be out in the morning at Sandy Hook to watch over the few plover nests that remain after last week's storm washed most of them away. Wish me luck at that and remind me to put on some sunblock.
😉