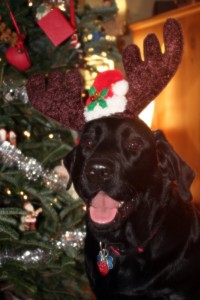 Yes, he's a ham for the camera!
Can you imagine the torture I'd inflict on a child?
He's not knocked down the tree or lifted his leg on it. Yet. Stealing ornaments is another matter altogether.
😉
I'm playing along with a holiday meme I saw over at Liza's and elsewhere to list 10 favorite Christmas songs. My favorites are mostly traditional carols…
1. O Holy Night – this is my absolute favorite carol, I think.
2. Please Come Home for Christmas by the Eagles
3. Carol of the Bells
4. Peace on Earth/Little Drummer Boy by David Bowie and Bing Crosby
5. Same Old Lang Syne by Dan Fogelberg – I won't admit to liking anything else by him, but this one makes me cry every single time I hear it.
6. Earth Abides by Philip Aaberg – a nicely quiet piano piece
7. Fairytale of NY by The Pogues – not one you'd ever hear on the radio, but an old favorite I was reminded of by reading other responses to this meme. Be warned… The Pogues are something of an acquired taste!
8. Silent Night – this one is all about the setting… I love hearing it on Christmas Eve, at midnight, holding a small candle in front of me at church with hot wax dripping onto my fingers.
9. Wexford Carol
10. Peace by Norah Jones
Why not share a few of your favorites?