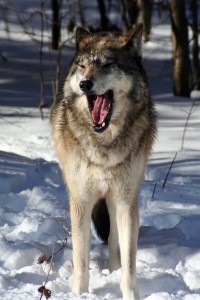 Wolves yawn and get sleepy at midday, did you know that?
And they curl up on the snow with their noses tucked into their tails just like their domestic cousins do on your couch.
Can you imagine that?
Ever wonder what it feels like to hear a couple dozen of them sing an impromptu concert in response to a raven cronking overhead?
Really, really cool and goose-bump inspiring, actually.

I got to spend a couple hours this afternoon at the Lakota Wolf Preserve taking pics and freezing my butt off in the snow.
Oh! You know those little hand-warmer packets they sell? They're worth it and feel really really good inside your shoes.
😉
More tomorrow.