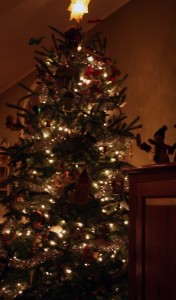 I love the stillness that finally comes on Christmas Eve and I'm up way past midnight enjoying the quiet of my living room lit only by the tree and the soft sounds the bunnies make in the dark as they nibble hay in the next room.
I had to work today for the first time in many years and wasn't very happy about it, really. Christmas Eve feels to me like the most solemn of days, yet I think being at work today let me see how the people I work with and the agency I work for can really shine in the lives of people in need. All week there's been bundles of donated clothes and toys hauled out to god-knows-where and the quiet phone calls we social workers sometimes make to appeal directlty to charities on behalf of the families we work with so there'll be toys or breakfast or heat on Christmas morning.
I was off early enough to enjoy some last-minute shopping, final touches to the tree – these sweet, glittery fabric butterflies that are wired to the branches – and the chance to visit with a couple friends and neighbors in the midst of their own Christmas Eve craziness.
The quiet now is complete until morning when another sort of craziness starts. I anticipate that, not nearly as much as I did when I was a child, but I still do. The stillness now is wonderful, though. I hope you find a moment of it yourself.