It began low and melodious, a sorrowful song carried on the wind from somewhere out of sight. Whatever signal started it was lost to me, though I'd been hoping I'd be lucky enough to hear a sing-along among the wolves while I was there visiting.
I first remember hearing a raven cronking overhead and laughing in delight at the novelty of that sound as I stood among a group of wolves. There are places where that occurs naturally, but NJ isn't one of those places. Quickly the sorrowful sound of one wolf became a haunting and surreal song, something like being inside a fire horn or a train whistle, as the urge to join the chorus traveled from one wolf to the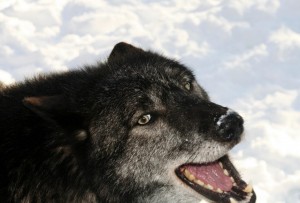 next. The sound surrounded me and gave me goosebumps!
This particular wolf, Black Star was his name, I think, was the most wolfish-looking of them all – always very wild and fierce – except when he began to howl, then he looked comical as he contorted his mouth to suit his trademark song. His voice was the loudest and most dissonant… his song rising and falling as part of the symphony.