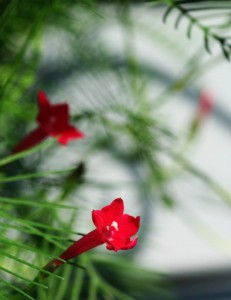 With each new seed catalog in the mailbox my dreams get grander and less likely to ever happen.
I love pouring over the new varieties and planning where each might fit in my garden, but actually choosing anything new over my old favorites seems an impossibility. Mostly I plant for butterflies and hummingbirds and think everyone needs to lure them into our gardens for the simple pleasure and laughter they can bring.
Hummingbirds love bell-shaped flowers and will zoom and hover from one to the next to the delight of anyone who stops long enough to notice.
My short list of easy-to grow plants for hummers includes:
Agastache – not bell-shaped, but hummers seek it out together with all manner of bees and insects.
Bee-balm – again not bell-shaped, but it smells great and a red variety has rooted itself along the border of my little pond and is a hummer magnet.
Crocosmia – only half-hardy for me, but a stunner.
Salvia – A personal favorite of mine that the hummers also seem to love in any color.
I can't remember the name of the plant in this photo – maybe scarlet cypress vine? For years my MIL started the seeds for me and I grew it along the fence that surrounds our pond. Now it grows from any little nook and cranny. This summer it sprouted from between a couple pavers in the driveway and twined its way up the gutters of the house! Beautiful, but it blooms way too late for the hummers to enjoy before they migrate. Anyone else have that issue with this plant?
Any other good hummingbird plants you've had success with?