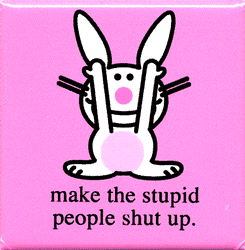 Can I rant a little about work? This will likely end up to be mean-spirited, so be warned.

I'm generally a well-behaved person; not prone to complaining too much, but this has been bottled up most of the week and Deb, my best friend at work, is on vacation. I've been stewing without her ear to bend. I'll use you guys as my sounding-board instead.
By the way, do you know Happy Bunny? I have a little collection spread around my cubicle at work. Deb thinks this is subversive on my part, but at least in my passive-aggressive way I'm letting my feelings be known to many of the people I work with. Most of them drive me nuts.
95% of the people I work with are women; that's the first problem. Second of all, the vast majority of them seem to forever be going through menopause so my workplace is awash in unhappy hormones. Third of all, and worst; they all talk too damn much!
Another great quote I've recently added to my collection is this:
"Before you speak, ask yourself: is it kind, is it true, is it necessary, does it improve upon the silence?" – Shirdi Sai Baba

I'm going against that mantra now, but I'm fed up. I need quiet to work, to be productive. I come to work to work, not to socialize or as a replacement for a therapy session. Why is it any different for the people I work with? Deb and I go out to lunch or into her office with the door closed when we need to talk about personal things. Never mind that I don't want the whole office to hear my personal business, but I respect them enough not to subject them to it! Why can't others be as courteous?

Do I need to hear every detail of your most recent phone coversation with your out-of-state daughter, repeated ad infinitum for every one of your twelve friends who stop by your cubicle throughout the day? Can't you at least change the story a little bit, for my benefit; your captive audience in the adjoining cubicle? Must I overhear every demeaning conversation you have with your husband? Do I need to know exactly and every single thing you plan to do this weekend? Do I need to listen to you alternate between cursing and crying every single day? Isn't there some medicine you could take for that?

Some day, if I prove myself incompetent enough (I work for the government, after all) I might get promoted and have an office of my own, instead of a cubicle amidst this sea of moody women. Then I'll be able to close the door on it all. Instead I'm forced to listen to this drather, day in and day out.

End of rant. Pretty pics and gentle-mannered nature observations to resume tomorrow. 😉