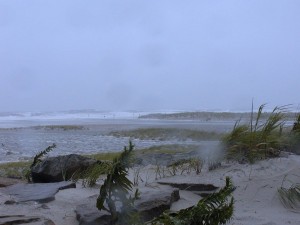 "Wild, wild the storm, and the sea high running,
Steady the roar of the gale, with incessant undertone muttering,
Shouts of demoniac laughter fitfully piercing and pealing,
Waves, air, midnight, their savagest trinity lashing,
Out in the shadows there milk-white combs careering,
On beachy slush and sand spirts of snow fierce slanting,
Where through the murk the easterly death-wind breasting,
Through cutting swirl and spray watchful and firm advancing,
(That in the distance! is that a wreck? is the red signal flaring?)
Slush and sand of the beach tireless till daylight wending,
Steadily, slowly, through hoarse roar never remitting,
Along the midnight edge by those milk-white combs careering,
A group of dim, weird forms, struggling, the night confronting,
That savage trinity warily watching."
— Walt Whitman, Patroling Barnegat
My plan for this afternoon was to go out to Sandy Hook for a beach plum walk, but the weather didn't cooperate. I still went and the NPS ranger was kind enough to give her speech about making beach plum jelly to just me (wonder why no one else showed up? lol!), but the planned walk to pick plums was cancelled due to the weather. We met at the Visitor's Center which was a U.S. Life-Saving Station that rescued shipwreck victims during the 19th century.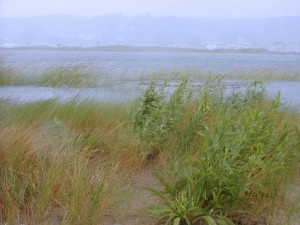 The ocean and marsh were still beautiful, but not walk-friendly despite my rain gear. I wasn't the only nut out there – living close to the ocean makes it hard to resist going to see it all churned up with a storm. The saltmarsh at Plum Island was flooded and the only birds I saw was one wheeling group of shorebirds and a few Greater Black-Backed Gulls hunched down on a bit of high ground well out in the marsh.
The remnants of Ernesto are supposed to clear out overnight and I'm hopeful that tomorrow I'll be able to pick some beach plums and try out the recipe the park ranger shared with me today.