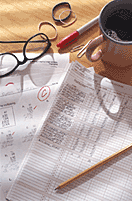 I gave my final exam last night and am desperate now to get them marked and final grades done. I'd much rather be doing anything else. I'm trying so hard to concentrate, but keep getting distracted by the lights on the tree, the funny stories you all share on your blogs, the bunnies scampering about, you name it!
I'm glad to see this semester coming to an end and will be glad for the break from students until mid-January when I'll start all over again. This semester has been the least enjoyable and least rewarding in the 5 years I've been teaching at the college, mostly due to the change in curriculum that was implemented by my department. It's not working for my students and their final exams make that fact all too obvious.
Anyway… don't mean for this to turn into a rant… back to that stack of papers. Have a great night!