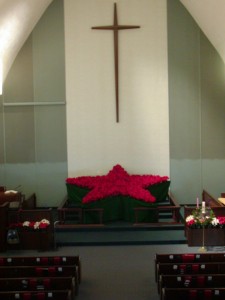 While out and about to do some shopping today, my husband and I visited a church in the neighborhood where I grew up. It's always been a favorite of mine because of its Christmas ministries and their beautiful candlelight service on Christmas Eve.
I tried getting a nice pic of the poinsettia star in the sanctuary, but even climbing up the stairs to the balcony didn't help much. The star is about 15 feet across and made up of hundreds of plants – really very pretty. Part of why my husband and I chose Christmastime for our wedding is because churches are so beauitiful at this time of year that we didn't need to spend any extra money on flowers to decorate with.
The church also has a few displays that tell the story of Christmas and of the life and ministry of Jesus. I wasn't able to photograph either, but there is a reproduction of Herod's Temple and a Putz. The Putz is a sound and light show that brings the story of the nativity to life with a 40 foot model of Israel and the three main cities of the Christmas Story.
Outside the church is a creche with donkeys, sheep, and goats – which of course is my favorite of all the displays. The church has been doing this for more than 50 years and it draws a lot of people to the site who then wander inside the church and maybe learn a bit more of the meaning of our Christmas celebration. The creche was what first brought me to visit this church as a teenager, and I have nice memories of a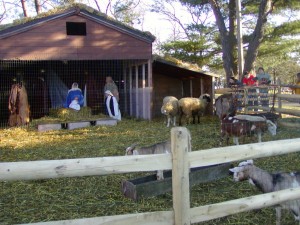 ttending services on Christmas Eve and then stopping by the creche to see the animals in the quiet after midnight on Christmas Eve.
I was a little bothered by signs on the fence letting the public know that the church has the animals checked out by a veterinarian and the SPCA and reminding us that they are farm animals and able to withstand our *frigid* NJ winters and are well-supplied with food. Apparently they've had a hard time with people worrying over the welfare of these animals! That didn't stop a lady from feeding them two loaves of white bread, despite the signs asking that the public not feed them, never mind the hay strewn about everywhere for the animals to eat. Some people just can't help being silly, I guess.