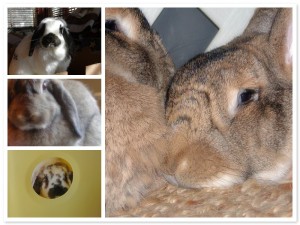 For the past couple of years I've done a Christmas Card Swap with other members of the PetBunny email group; most years there are about 40 people who exchange cards. Most often the cards have *bunnies* as a theme, but as you can imagine these are hard to come by at Christmastime, so instead some people make beautiful handmade cards or send photos. Sometimes people will also send along a little gift with the card.

This year I decided to send refrigerator magnets with my cards. I made the mosaic above from some favorite pics on Flickr and asked a friend of my husband's (who owns a sign shop) to print up the magnets for me. We got them tonight and they turned out beautifully, plus he did them for free! Now I just need to find some nice bunny cards to mail them in.

The card swap is one of my favorite things about the PetBunny list – most of the members are total strangers to me, but we all share a fondness for pet rabbits. Each Christmas the bunnies here get more cards than my husband and I do!