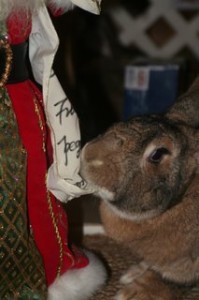 This explains why Santa didn't bring any gifts for the bunnies – Boomer ate his list!

I'd been trying to get some *posed* pics of the bunnies to maybe use next year on Christmas cards and brought the Santa doll from its usual spot just outside the bunny room and placed it next to where they were lounging. For the most part they were afraid of it; then they did what all bunnies seem to do to learn about new things – they tested it with their teeth. They are very suspicious of anything new or out of place and will approach the suspect object on tippy-toe with their necks stretched out – very cute to see this survival strategy in action. Usually it's not
hing more dangerous than a misplaced dog toy, but anything smelling like the dog is enough to send them to the other side of the room with a thump.

They'd been investigating the Santa doll for a week or so during their daily forays into the living room – they still won't hang out in there other than a quick dash behind the couch – and I had hoped they were comfortable enough with it that I might get a few cute pics. Not exactly what I had in mind, but they made me laugh, as usual.