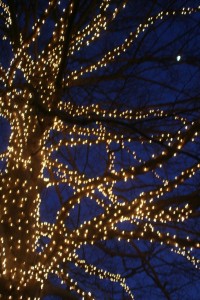 I've always wanted to visit Longwood Gardens in Kennett Square, PA. This is their centennial year and my husband and I have the week off, so we decided to take the trip today and see their Christmas display. Of course this week after Christmas is their busiest and neither of us do well with crowds, most certainly not after 2+ hours in the car, but the crowds weren't bad until we were ready to leave.
We spent a few hours wandering around the indoor conservatory and then walked the grounds for an hour or so at dusk and left just as the outdoor lights were looking their best. I had to do a lot of experimenting with the camera to be able to get decent pics of the gorgeous light festival, but I managed a few to share. This first pic is a favorite from the Beech Allée; at the end of a dozen or more Beech trees was a display of snowflakes and stars that seemed to be falling from the sky.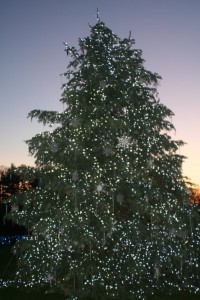 This blue spruce at right was gorgeous decked out in frosty blue lights and icicles. This is the main tree in the fountain garden which is done all in blue lights – really beautiful.
There was a lot that we didn't take the time to see in our hurry to be on our way home, like the ice-skating performance and lighted fountain show. I enjoyed just wandering along and seeing the way each tree was lighted to its best advantage. Many of the light displays had a garden theme – daffodils, crocuses, lilacs and wisteria formed from lights were blooming in the garden beds along the pathways – very unique and beautiful, but hard to photograph in the dark.

Tomorrow I hope to share some pics from the conservatory.