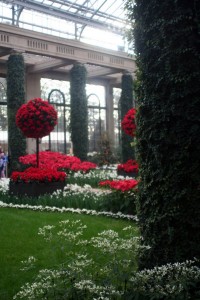 Comparing the conservatory at Longwood Gardens to a greenhouse gives the wrong impression. When I think of a greenhouse, I think hoses and dirt and uncomfortable heat. The conservatory at Longwood is a 4 acre garden that just happens to live under glass. You stroll from garden to garden hardly aware that you're inside at all, except for the occasional temperature change when entering one of the areas with plants that have special needs.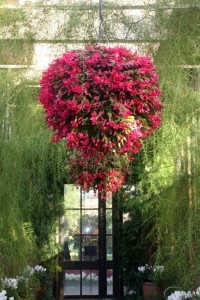 The only other *famous* garden I've visited is the Brooklyn Botanical Garden, so I don't have much to compare it with, but I was very impressed. Everywhere I looked there was something beautiful and absolutely no sign of the behind-the-scenes work that goes into caring for a garden of this magnitude. I did not see a single insect and every plant, every leaf was in perfect condition. How do they do that with more than 200,000 visitors during the Christmas season?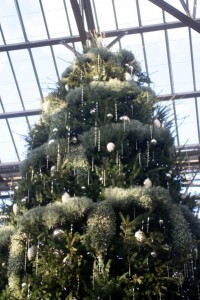 The photos I'm sharing today were taken in the main holiday display areas – the Orangery, the East Conservatory, and the Exhibition Hall. The other areas also had holiday displays, but they were more subtle and in keeping with each garden's theme. The pic above is the 25 foot Douglas Fir decorated with a living garland. Of course I didn't write down the name of the plant and can't remember what it was, but it reminds me of an artemesia.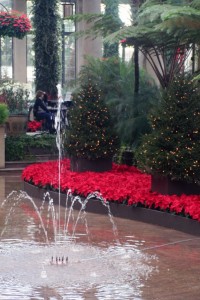 Poinsettias were everywhere, of course, and while I don't much like this plant, I do have to say that they looked very pretty. Narcissus, amaryllis, primroses, and lilies were heavily used. I liked all but the lilies; too strongly-scented and associated with Easter (and funeral homes) in my mind to enjoy them.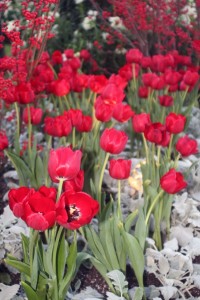 Here's a plant combination you'd never see together but under glass – tulips in the foreground and winterberry holly in the background. The holly was used in most all of the displays and was striking! Does anyone know if winterberry holly is deciduous? I don't grow it, but my husband was surprised to see a holly without any leaves and I wonder if they weren't removed just for effect. Will have to look that up in one of my garden books.
I bought a few of the books for sale in the gift shop that describe the history of the gardens and have pictures from all seasons. Were my first visit in the spring or summer I don't know that I would have even bothered to go into the conservatory – the outdoor gardens and fountains are so beautiful in the photos. I plan to visit again and see it at all seasons.