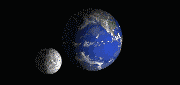 I'll be hosting Good Planets on Saturdays during the month of January. Anyone is welcome to submit photos depicting the beauty of our earth to me at lc-hardy AT comcast DOT net for inclusion in the carnival.

If you're not familiar with it, Good Planets was started back in August by Robin Andrea and Roger of Dharma Bums as a way to showcase and share the beauty and wonder of the natural world. Their call for photos has grown into a weekly carnival and now has its own Flickr gallery maintained by Pam from Tortoise Trail.

Be sure to check out this week's photos at Journeys with Jood and please consider submitting a photo or two during the month.