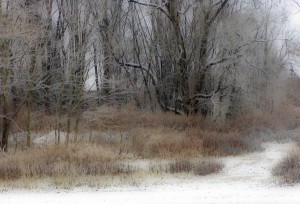 "Winter, a lingering season, is a time to gather golden moments, embark upon a sentimental journey, and enjoy every idle hour." – John Boswell
I'm going to spend a few idle hours this evening with a new cross-stitch project that I bought the materials for on Friday night and haven't looked at since. You know how on Friday night with the whole weekend ahead anything seems possible? Well, here it is Monday evening and the fabric and threads and chart are still sitting in the bag where I left them at the start of the weekend.
We had a dusting of snow overnight. Not enough for my husband to be called in to work to plow, but enough to make the everyday scene above look a little special, to me, at least. This is a tiny wooded tangle that separates my office building from the police academy that is situated behind the slight incline and closer to the road. I want to believe that a pair of Red-Tails nest here, because I see them perched in these branches so often, but I've never been able to spot their nest.