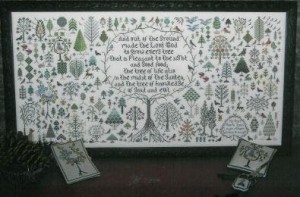 I tried finding a photo online of the cross-stitch sampler that I would like to do and came across this one which is a fairly close match. The design style is very similar, but the one I have is about half the size.
I photocopied the chart out of a 15 year old embroidery magazine and went to the craft shop and bought the linen and floss before really thinking about the hours of torture this design on 28 count linen would require.
It's probably been 10 years since I bought any new projects and my eyes have changed in those years, for sure! I simply can't do it – can't see the holes in the fabric to know where to put my stitches.
I may try the design on a 14 count evenweave fabric instead, but I don't know that I will like the results so well. What makes embroidery on linen so nice to my eye is the level of detail that's possible and the variety of stitch shapes that are possible when stitching on a fabric that has a little *give*. Every stitch on evenweave fabrics looks the same and that takes some of the charm away.
If you're not a stitcher and don't have a clue why I'm going on about how tiny 28 count linen is – think of it like this – I'm stitching over two threads in the linen – so on a 28 count piece there will be 14 stitches across and 14 stitches down in an inch – a total of 196 stitches in a square inch of fabric! The design I'm followin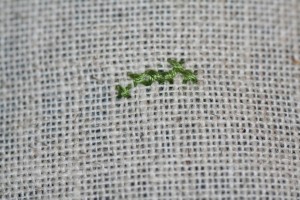 g is about 18″ by 15″ so that's how many stitches? Anybody want to do that math?
I did 6 stitches last night and decided that I'm out of my league. I took a photo of my handiwork with the macro lens and only then did I realize that I made a mistake already! See that last stitch on the left in the bottom row – I crossed it in the wrong place. I could get one of those magnifying glass things they sell, but I don't think that will make stitching any more enjoyable for me. I need to stick with the big clunky stitches that I can see easily.