The other day I went for a walk in the woods to see birds. Other than being temporarily distracted by a singing scarlet tanager, I didn't actually see very many birds at all. There were a few cuckoos who kept taunting me, the ever present and wonderful ovenbirds, and a gazillion blue gray gnatcatchers whose song became little more than background static once I gave up trying to spot them.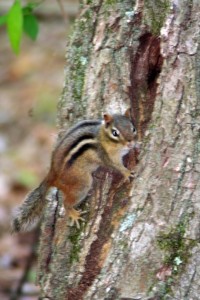 Instead I followed the chipmunk's chatter and he led me to find some special things…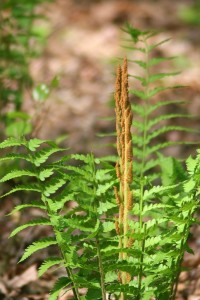 He scampered about under the cinnamon ferns…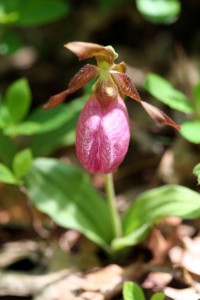 and helped me see the Pink Lady's Slippers that I've been searching for everywhere…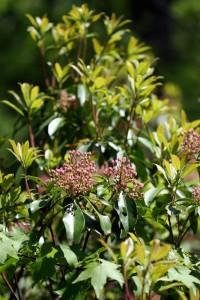 When I got over finding those, I noticed that the Mountain Laurel was just about ready to burst into bloom.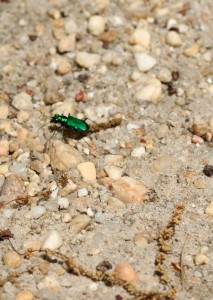 Then I met up with a few of these garrish beetles patrolling the sandy paths. None would let me get close enough for a nice pic, despite my dusty knees.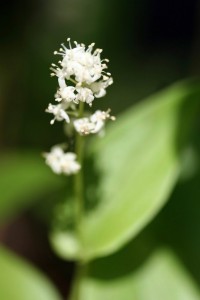 Finally I took a break and sat on a bench beside a swampy pond with the chipmunks still chattering at my back. My binoculars were focused on the yellow bladderworts blooming on the far shore when I noticed these tiny flowers at my feet. I think they may be Canada Mayflowers?
On my way out of the woods, the scarlet tanager was still singing and I watched a few bluebirds hawking insects from the grass. I've not had any luck with photographing birds this spring, and little luck with finding wildflowers when I go out looking for them, but I seem to do better with one when I'm paying attention to the other. Does that make any sense? Maybe this day I can credit my better luck with following the chipmunk's antics.
All photos from Allaire State Park, another local warbler hotspot.