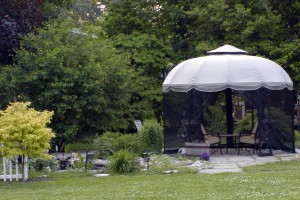 We bought one of those gazebo thingies to put out by the pond and I need some convincing that it doesn't look like a circus tent. It doesn't, does it?
We have a nice-sized yard and the pond is a beautiful area, but it's in the blazing sun and surrounded by rock and stone and is really the last place on earth that you want to spend any amount of time on a hot summer's day. So my thinking is that this way we can have some shade and a few comfortable chairs and even some protection against the famous Jersey mosquitoes if we want to sit out there in the evening. Based on a test run late this afternoon I can also tell you that it'll be a fabulous spot for a nap, with the sound of the water lulling you off into dreamland.
I think this is our sixth summer with the pond and we're still not finished. Each year we tweak a little something to get it to where we want it to be. This gazebo is another step in that direction, I think. You might have noticed that we removed most of the fence from around the pond – except for the bit that faces the street. I'm nervous about that, but both my husband and I hated it and it really detracted from our enjoyment of the pond, plus it stuck out like a sore thumb. This way we have an unobstructed view from inside the house and from the screen patio. Anyone who is inclined to wander too close to the pond will have to walk through the middle of our yard in order to do it – hopefully no one will. We live on a quiet street, but have a lot of visitors parking beside our house because of a luncheonette on the opposite corner. The pond is something of a magnet, but I hope people's better sense will prevail and they'll stay on the street side of the fence.
The weather here has been much more like the 4th of July than Memorial Day. We went ahead and put up the awnings, which help to keep the house cool, but make it dark like a cave. I miss the sun streaming through the windows, but it's been uncomfortably hot these past few days. I have just a few days left of vacation and intend to be very lazy and put the new circus tent to good use!