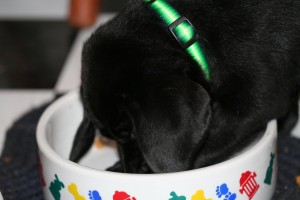 Yes, it's soon, but really I'm surprised we lasted the few days we did. I found my husband surfing the SPCA websites this morning and that was that. We hadn't spoke of it yet, but I guess we were both thinking the same thing: the house is lonely, it's too quiet when we come in with no one to greet us, the bag of dog food is going to waste in the closet, etc. (insert other lame excuses).
So now there's this puppy. Crying and mouthing and being utterly adorable. I'm not looking forward to the next few nights; his first away from his parents and littermates. But the house didn't feel right without a dog. We're taking the easy way out of our mourning for Buddy, I know. There is no distraction from sadness like a puppy. We do what we have to to heal a broken heart.
I apologize for being away for a few days, but I didn't have anything to say that wasn't pathetic. I appreciate your concern and the love you sent our way. Thank you.
Life is good with a lab pup at your heels.