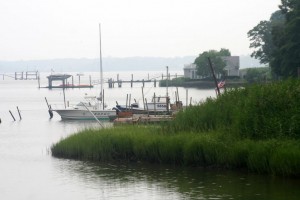 We tried out a few new crabbing spots on the Navesink River yesterday, but this one was my favorite because it has such a nice view. We were there at a bad time in terms of the tide, as this little creek leads into a quiet cove. Due to some crabby logic that I don't understand, a cove like this should be best when the tide is coming in. We spent very little time actually crabbing, more time moving from one bridge to the next. The first new place we tried became crowded with other crabbers early in the day and wasn't very safe as it's along a busy road. Then we drove to the other side of the river to this scenic spot, but the tide was going out by then and we only stayed an hour or so.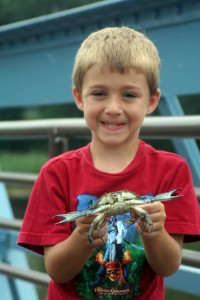 We caught a few crabs, but nothing to brag over. Well, except for my nephew – he was thrilled with anything that was big enough to keep and show off! His older brother came along with us. He's going away to forestry school at the University of Montana in a few weeks – he wants to be a smokejumper by next summer. I'm so proud of him for going to school and being a good kid.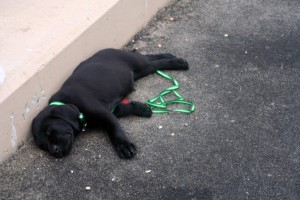 Little Luka came along on our crabbing adventure and was pretty cranky after a few hours without a nap. Finally he just crashed on the sidewalk of the bridge while we worked around him. We wore him out good yesterday so that he slept through the night last night – straight through til 5 am – thank heavens!