Wildflower Enthusiast:
There is a temporary need for a part-time wildflower instructor willing to traipse around in the woods and point out and identify pretty flowers. Availability primarily on weekends and late afternoons during the Spring season. May also be needed for summer day trips to the NJ Pine Barrens.
Must be able to discern weeds from wildflowers and recognize garden escapees. Infinite patience with the beginner is desirable. Resistance to poison ivy helpful. Must not be deterred by wet feet, muddy knees or mosquitos. Love of rock-eating black labs might prove useful, as would a good sense of humor.

Th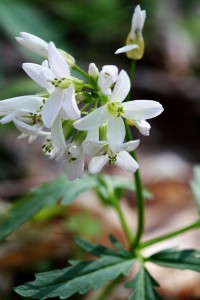 ere is no salary; good company is the only thing on offer. Possibility of barter is negotiable. To trade: above-average knowledge of birdsong, organic homemade rabbit fertilizer (by the ton), best local pizza, free-range mixed baby koi/goldfish, familiarity with essential inferior poetry.
To apply, simply state the name of the flower pictured herewith. Serious inquiries only, please.