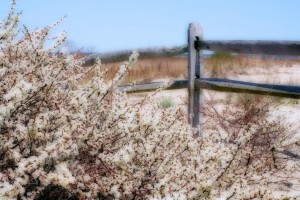 Beach plums in bloom make me happy, so I'm posting this pic, as unseasonable as it is, in an attempt to temper my crankiness. Other than normal Monday crankiness, this is what had me frazzled today:
*My camera – it's fine I think, just something wrong with the memory card, but that means spending money on a new one or sorting out what to do with this one and really do I have time for that now?
*Street signs – why don't towns maintain them for dopey social workers like me who go out without a proper map? And why don't people put numbers on their damn houses?
*I locked myself out of the house… again. Only the second time in a month, mind you.
*I still haven't done any Xmas shopping! What the devil is the matter with me!
*It's a little chilly here and my mother-in-law ran out of oil to heat her house and didn't mention it to anyone. (I won't mention the two brothers-in-law that live with her and who also didn't mention it nor did they mention there was no money to buy more oil.) Hello? Are my relatives particularly nutty or do yours do this type of thing, too?
(And I see the ridiculousness of worrying over xmas gifts when the MIL has no heat.. I do!)
*Speaking of relatives (I should probably just stop before I really get on a roll, but can't resist just one more tidbit) – digging around in the closet this evening looking for cookie tins, I found Xmas presents from last year for my nephew, all wrapped pretty and waiting for his dad to show up for them. I guess they'll still be there this Xmas if he ever bothers to let me know if he's planning to come for dinner!
Hmm.. that's probably enough. So how was your Monday?
😉
It'll be better in the morning… I know.