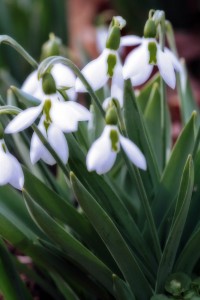 You don't know me, but might recognize me from the neighborhood. I walk by your house with the silly black Lab puppy in the early evenings; sometimes we wave to one another while you're out to bring in the garbage cans from the street.
Maybe you saw me this afternoon on my knees in my good clothes in the middle of your front garden. I had the camera with me on the way in from work and couldn't resist stopping to take some pics, even though I worried you might think me a little nutty for doing it.
You see, those snowdrops you've planted have been drawing my eye for the last week or so; in fact, I look for them there every winter around this time. Last year, their blooms were suspended in ice, but my winter weary eyes were reassured at the sight of them.
If you'd noticed my pausing as I drove by earlier this month, it was just so that I might catch a glimpse of the green shoots poking the way through their bed of ivy. That was magic enough the morning I finally spotted them, but last week their blooms lifted my heart some on a day when it was otherwise heavy.
I can see from your carefully-tended garden that you're as much a lover of the most delicate flowers as I am. But snowdrops aren't delicate and they're as generous with themselves as we gardeners te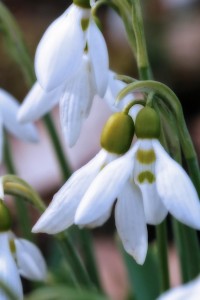 nd to be. Yours are slowly monopolizing the small space you've allotted them and before too long will be blooming down along the sidewalk. When that happens, I hope you'll forgive me if you should find me there one afternoon with a small spade in place of my camera.
I'd be happy to return the favor, if only you'd knock at my door sometime and introduce yourself. I think I saw you out there one spring day at the edge of the garden with an eye on my patch of lily-of-the-valley. It's quietly covering the ground beneath the dogwood trees and making its way towards the street.
If we wait long enough, your plot of snowdrops may meet my patch of lily-of-the-valley, and then our flowers will be neighbors too and we'll not have to steal glances from one another's garden any longer.